Okay, so what is the ultimate goal of your website?
Leads, conversions, revenue, profit?
But the question is, how do you plan to achieve these goals?
How do you get your website visitors to sign up for a newsletter, subscribe to your blog, share your content, watch a video, download your eBook, purchase your products or services or anything else that helps you achieve your goals?
Encouraging your potential customers to take the desired action is a challenging task for many online marketers. You need to focus on highly functional UX design, amazing copy and most importantly, an effective and captivating call-to-action.
If truth be told, every single action a user takes on your website is likely a result of a powerful CTA button. It is critically important to guide your visitors through the buying journey using CTAs strategically.
Whether you are running a web design agency, an ecommerce store, a real estate business or a fashion brand, a call to action is foundational to the success of any business.
If you are finding it hard to getting your visitors to take the desired action, it is high time to make some tweaks in your call to action and include them on your website, blog and in your marketing campaigns. To get it right, here are a few out-of-the-box examples that will guide you in coming up with effective and great CTAs that will compel your prospects to do what you aspire them to do.
Let's get started.
1. Dropbox
Dropbox always focuses on an uncomplicated design and peppering in tons of white spaces in between design elements. Every graphical element used in their website is subtle, simple and effective, which is a true reflection of their product. They used blue color for their call to action button which is the color of their logo. This creates an automatic connection in the minds of prospective customers and make them believe that they are signing up on Dropbox. Their clear and effective CTA stands out from every other element on the page.
2. AYR
AYR is a New York based women's apparel brand that aims to persuade their target audience by using short and sweet CTAs. Instead of using phrases that ask you to take some action, such as "buy now", the brand puts themselves in the shoes of their prospective customers. Phrases such as "I Want", "Mine" truly ignite an innate inner desire for the products, making customers imagine themselves buying it, rather than simply looking at it longingly on their mobile screens or desktops.
3. TheSkimm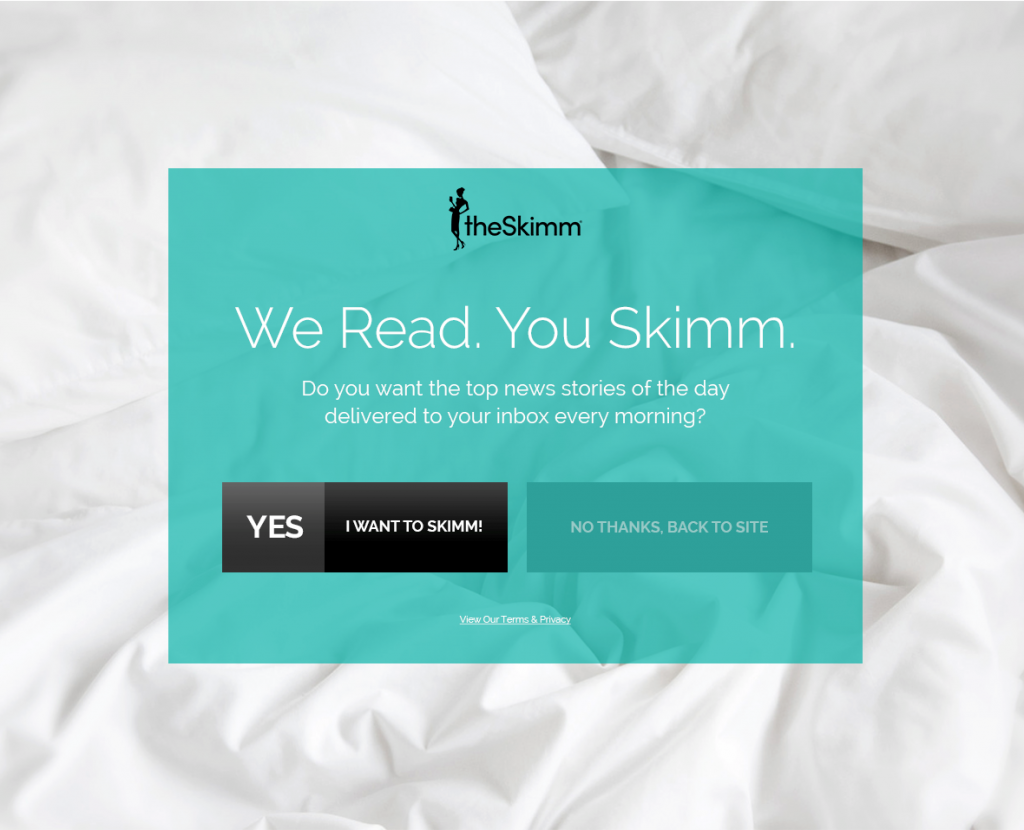 TheSkimm is an amazing tool that dishes out your daily dose of news and information before you start your day. The brand effectively and clearly communicates their offers to their target audience. They use a strong CTA copy to persuade people to join their platform, as well as employ the perfect color contrast that highlights the button from everything else on the page.
4. Less Accounting
Less Accounting is a small business accounting software company that uses the power of muted colors to persuade their potential customers to sign up for a free trial version of their accounting software. Their resounding CTA copy, "Let's Do It", is undeniably convincing. The brand uses their CTA to motivate users to dispense with their personal data and the CTA copy that creates a buzz among prospects to give their product a whirl.
5. Huemor
A New York based web design and development company brilliantly uses a very playful approach of reverse psychology to persuade their prospects to press the "Do Not Press" button, which instantly piques their curiosity and makes them press it. This advertising trick works well for their overall brand concept and helps them get more qualified leads.
6. Basecamp
Basecamp is a project management and team communication software which is intended to make every project managers' life easier. The brand uses a compelling CTA to convey the risk-free nature of the free trial, making it more conclusive than something more direct, perhaps a "Try Now" directive.  Instead of using an aggressive pitch and a challenging CTA, they cleverly play on a persuasive tone to get people to try their product.
7. Visit Humboldt
The brand came up with a more creative approach to attract their prospects by using the copy "Follow the Magic". The unconventional CTA button features a bunny icon and persuasive vernacular which you can't resist clicking. When you click the CTA, the website gives you a few options to choose the type of vacation you are thinking about, which will eventually encourage you to click on each option and spend more time on their website.
Final Words
All in all, CTAs are a must-have if you really want to achieve your website goals. It is simply not enough to have a call-to-action button; you need to make sure that you design and optimize it well to create a sense of urgency that drives your prospects to action. If you want to get the best possible results, recreate your CTA buttons and follow these creative examples. With little creativity and effective design, you will surely come up with a CTA that can effectively convey your message and persuade potential customers to do what you want them to do.